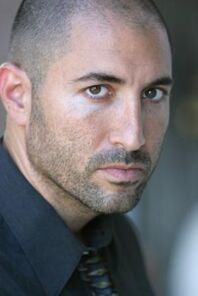 Danny Jacobs (born July 7, 1968) in an American voice actor and character actor, perhaps best known for impersonating Sacha Baron Cohen when voicing King Julien XIII in The Penguins of Madagascar and Merry Madagascar. He even portrayed Sacha's famous character, Borat Sagdiyev in the parody film Epic Movie.
Jacobs reprised his role as Julien in the long-running TV special Dr. Blowhole's Revenge, in which the lemur king was kidnapped by the evil Dr. Blowhole.
He also voiced King Julien in the Madagascar: Escape 2 Africa video game and in Madagascar Kartz.
Jacobs even did additional voices in Futurama and in the long-running 1999 special, Olive, the Other Reindeer.
==Career==Born in Detroit, Michigan in 1968, Jacobs attended St. Matthew Elementary School and Bishop Gallagher High School. He then went on to business school at Wayne State University for 2 years.
In 1988, Danny transferred to the University of Arizona, and switched his major to musical theatre. Since graduating from the University of Arizona, Jacobs has been acting in regional theaters across the country. He has established himself as a national voiceover talent with clients (such as Bissel, Blockbuster, Bud Light, Ford Dealers, GMAC, and KFC, among others).
In 1993, Jacobs originated the role of Chico Fernandez in Jeff Daniel's comedy, "The Vast Difference", at the Purple Rose Theatre.
In 1996-7, Jacobs won acting awards in Michigan, Florida, and Wisconsin for his portrayal of Aram in Richard Kalinoski's "Beast on the Moon."
In 2003, Jacobs began touring the nation with "Triple Espresso: A Highly Caffeinated Comedy."
Now based in Los Angeles, Jacobs continues to work in film, television, and voiceover.
Filmography
Edit
===Animated roles===* Futurama (voice) (uncredited) (1999)
Olive, the Other Reindeer (voice) (1999)
The Penguins of Madagascar (voice) (2008-2010)
Merry Madagascar (voice) (2009)
===Film roles===* Get the Hell Out of Hamtown (1999)
Full Blast (voice) (uncredited) (1997)
Mad Men (1 episode) (2007)
Shirokishi monogatari: Inishie no kodo (voice: English version) (VG) (2008)
Endwar (VG) (voice) (2008)
Madagascar: Escape 2 Africa (voice) (2008)
===Video game roles===* Madagascar: Escape 2 Africa (voice) (2008)
Batman: Arkham Asylum as (voice) (2009)
The Godfather II (voice) (2009)
Madagascar Kartz (voice) (2009)==Annie Award nomination==
Jacobs was nominated for the 2010 Annie Award for Voice Acting in a Television Production for playing Julien in Merry Madagascar, but lost the award to Tom Kenny.==Trivia==
Jacobs is also the sixth of seven children.
He used to have hair, but is now bald.
Ad blocker interference detected!
Wikia is a free-to-use site that makes money from advertising. We have a modified experience for viewers using ad blockers

Wikia is not accessible if you've made further modifications. Remove the custom ad blocker rule(s) and the page will load as expected.